This is Murphy, a therapy dog, and Anne, a person living with dementia.*
As soon as Murphy was carefully positioned in her lap, Anne began gently petting her. Then she began to sing and rock her. Tears welled up in the eyes of Anne's caregiver and mine.
I had the privilege of participating in a Pet Therapy Community Class at The Alzheimer's Foundation of America (AFA). This is where I met therapy dogs, Murphy and April, their owner/handlers', individuals living with dementia, and their families and caregivers. Attendees crossed cultures, included men and women, and the response was universal. As Murphy and April visited with each person, they completely focused on the animal. You could see them relax and their breath slow down. And the smiles, oh the smiles. I wish you had been there.
The term "pet therapy" is a common one, but as Nancy George-Michalson (Founder and Executive Director of New York Therapy Animals, Inc.) explained, the more accurate term is "Animal-Assisted Interactions" (AAI). AAI covers the two sides of this work, animals volunteering in an activity such as the community class I attended, and animals volunteering in therapy.
Activities like the Alzheimer's Foundation's meet and greet are designed to be entertaining, informational, and fun. Therapy is very different. Nancy and her therapy dog Callie volunteered in a facility for people living with Alzheimer's. As part of a team of Physicians, Physical Therapists, and Occupational Therapists, their work was an integral part of the goal directed treatment plan.
Treatment plan goals for a person living with Alzheimer's are measured and documented. This allows the health care professional to evaluate patient progress. For example, they might measure, "Is the person more verbal or expressive during the therapy dog visit?" "Does the person appear more socially connected during the therapy dog visit?" The bonus in this goal directed work? In touching the dog, the person living with Alzheimer's often feels a sense of affection and comfort.
The work that Nancy and Callie did in the healthcare facility took a very personal turn when her husband was diagnosed with Alzheimer's. Nancy was his caregiver for five years and Callie was instrumental in his care. To the point where at times, Nancy would hear her husband tell Callie what he was feeling. "When you are first diagnosed it is a lonely place, to know you have this disease. Animals give you a way to find comfort and release." Callie was getting on in years, so with his permission, and for his 80th birthday, Nancy got him another dog. All three of them visited him in hospice. It was important for he and the dogs to snuggle, and the dog's needed to know the inevitable outcome.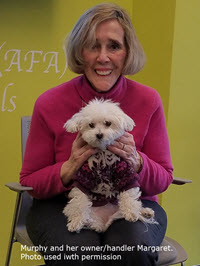 Becoming registered for Animal-Assisted Interactions requires a commitment from both the owner/handler and the animal. Both must go through training with a certified pet dog trainer, be evaluated for temperament and behavior, and have their veterinarian assess overall health. The dog is evaluated for temperament; reliable, controllable, predictable are the criteria needed for registration. During this evaluation process, the dog is familiarized with situations they wouldn't normally face, like walking around medical equipment or being with around people with movement disorders. All this puts pressure on the dogs, so New York Therapy Animals makes sure there is downtime at home, limiting visits to two hours within 24 hours.
There is specific training for facilitating interaction between the dog and the person living with dementia. Owner/handlers are trained on how to position the dog, so it is comfortable and the person with dementia can pet the dog appropriately. Handlers are trained to sit at eye level to facilitate conversations. Any questions should center on the dog, be clear, and have ample time given to respond. Of course, sitting quietly without saying anything is also important.
In The Advocate article: How important is touch in the care of an Alzheimer's patient? I learned that touch can ease anxieties and help increase feelings of general well-being. Indeed, touch can make an emotional connection. This is key, because individuals living with dementia have difficulty communicating. I certainly witnessed those connections at the AFA Class. Some of the people living with dementia were communicating verbally, others didn't speak. But each dog was a catalyst to social interaction and communication through the gentle touches, huge smiles, and affection they gave to Murphy and April. Interpersonal communication is not limited to dogs. Other domesticated animals can be trained for therapy such as a cat, bunny, horse or llama.


As Nancy explained to me, the human-animal bond is very strong, and for a moment in time people can be reminded of their pet from years past. They can feel unconditional love and comfort because an animal is non-judgmental. This helps them to relax and lifts their spirits.

We are fortunate that the Alzheimer's Foundation of America is local and holds these community programs. If you live elsewhere in the country and are interested in Animal-Assisted Interactions, try contacting a national organization to see if they know of local programs. Try contacting local assisted living, skilled nursing, or day rehabilitation programs to see if they run a similar program. Typical dog therapy visits to people occur in facilities, but you may find an organization that comes into your home.
Thanks to Nancy George-Michalson of New York Therapy Animals, Inc., Murphy and her owner Margaret, and April and her owner Beth, for their generosity in sharing information and their dogs. New York Therapy Animals is a 501(c)(3) non-profit organization. The volunteers and their trained dogs visit in healthcare facilities, shelters, schools, and libraries. New York Therapy Animals participates in the Reading Education Assistance Dogs® (R.E.A.D®) program where children read to therapy dogs to gain self-confidence.
Thanks to The Alzheimer's Foundation of America. They do amazing work.
*Person's name has been changed.
Disclaimer: The material in this blog is for educational purposes only. It is not intended to replace, nor does it replace, consulting with a physician, lawyer, accountant, financial planner or other qualified professional.