Podcasts
"I was recently a guest on The Happy Healthy Caregiver podcast with show host, Elizabeth Miller. We talk all about how I'm coping while caring for mom during this pandemic. Specifically, we discuss how my brother is able to help from 12 hours away, how I stay informed without getting derailed, how I secured the necessary supplies which are also in high demand, and how I continue to manage and set expectations with my mom and our care team during these uncertain times."
All Things Seniors
It was a pleasure to appear as a guest on "All Things Seniors" Podcast, about how caregiving can change relationships. We talk about the new ways I engage with mom, why saying no is something every caregiver should learn and the approach we took for financial challenges. To listen to the podcast:
Apple
Spotify
"Rodger That" Podcast with Bobbi and Mike Carducci
Bobbi and Mike discuss how caregiving transforms the relationship with your loved one with this week's guest Debra Hallisey a Certified Caregiving Consultant and Dementia Practitioner. Caregiving changes the everyday lives of your loved one, the caregiver, & their circle of loved ones. We are no longer just a child, a spouse, or a friend. And this means that our "relationship contract" with the caree must change. With caregiving comes a change in relationship
Episode 1 Raising Rents
Raising Rents Podcast host Zack Demopoulos with his wife Phyllis takes you through 9 steps to help you be there for your parents or another aging adult. Zack and Phyllis own a Home Health Care agency and through this work, identified common themes for caregivers. This, their first episode, focuses on Step 1 "Be Good To Yourself" and Step 2 "Be resourceful". Deb is proud to be included in Episode 1 as a passionate service provider that came to this business through personal experience. Episode 1 Raising Rents
Videos / TV
It was a pleasure to chat with Dr. Glenna Crooks, author of the Networking Sage on her show "Let's Connect." During our half hour together, we chatted about how relationships are really contracts and how unspoken expectations can damage relationships. We bonded over how often people don't identify as caregivers, how important it is not to parent your parents and the needed for caregiver "support peeps."  Let's Connect with Advocate for Mom and Dad.
Deb tells the story of how Advocate for Mom and Dad got started in the Startup Story Slam
"Courageous"
Deb talks about her website and blog: Advocate for Mom and Dad in an interview with Tom Callahan of "Only Seniors" "Only Seniors Interview"
Radio Interviews
Master Your Finances – Taking Care of Your Parents!
Our host, Kurtis Baker, is joined by Debra Hallisey founder, owner of advocateformomanddad.com. She blogs on caregiving issues, consults with family caregivers, and recently published the book, "Your Caregiver Relationship Contract". Taking Care of Your Parents
talkradio nyc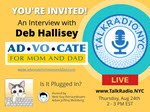 I had the pleasure of being interviewed by Adam Weinberg of talkradio nyc. Our conversation centered caregivers and their need for help. We talk about strategies on how to say yes to help, how to ask for help and being honest when offering or saying yes to help. Listen through the first half hour and you will hear a commercial mom helped me tape for the show!
When you click on the link, The show is titled: 2017/08/24 – What Can I Do To Help?
https://talkradio.nyc/hosts/adam-jeffrey-weinberg/#talkradionyc
Mom and I had so much fun taping a commercial for talkradio nyc. With thanks to Adam Weinberg, host of "Is It Plugged In?" And a special thanks to Paula Muller of Soviavi, who invited me to tape the commercial for her program with Adam. To hear our commercial, click below.

The Voice of Real Estate
What does it take to stay in your home as you age? I was honored to be the featured guest Sunday, July 2, 2017 at 9am on the informative radio talk show "The Voice of Real Estate". We talked about what it takes to remain in your home as you age. The show is hosted and produced by Berkshire Hathaway HomeServices Fox & Roach, Realtors Princeton, NJ real estate expert Debbie Lang on Fox Sports 920 The Jersey-920 AM in NJ and PA.