Start preparing for discharge the day your loved one enters a care facility.
Most people unfamiliar with the healthcare system are under the misconception that hospital discharge occurs when your loved one is back to normal or when the family is ready. The reality is that discharge from an acute care hospital occurs when the acute medical crisis is stabilized, can be handled at a lower level care facility such as a skilled nursing, rehab, a long-term care facility or managed at home.
Often when discharge time comes, families say, "we aren't ready". You may feel your loved one should not be discharged because they are not walking, or their home is not properly set up for them. However, not walking is not a skilled nursing need nor does it matter that the ramp has not yet been installed at home. Your loved one WILL be discharged. Unfortunately, there is another ill person that needs that hospital bed. Discharge can't wait until the timing is better for the family.
If a family feels the discharge is premature, they can appeal to the facility or to the medical director of the insurance company. Keep in mind that your loved one must need skilled care to stay in the facility or be stepped down to a lower level of care. It doesn't matter if you don't feel equipped or ready to take your loved one home. Appealing a decision for this reason will not change the decision. Be prepared to pay for additional help if you cannot provide care for your loved one.
What responsibilities does the family have?
Stay on top of the discharge planning process from day one. Private insurance monitors progress very closely. In some cases, they may push for discharge if your loved one is not making progress.
Don't wait until the day of discharge to get the training you need to care for your loved one at home.
Don't wait until discharge to research rehab, Skilled Nursing Facilities (SNF) or home care options:

While your loved one is in the hospital, visit facilities along with checking their Medicare rating. Identify at least three facilities you can go to upon discharge. Discharge can happen in as little as 24 hours. If you have not identified a site, the discharge planner will do it for you.
Prioritize the three facilities you have identified. Multiple factors like your loved one's health, insurance, and bed availability will impact a facilities' ability to take you.
Consider not just the facilities reputation but burden on you. Consider the commute distance and your availability to visit your loved one.

Be proactive about planned surgeries like knee or hip replacements. Find out if your procedure (i.e. single joint replacement) qualifies for inpatient rehab. Tour rehab care facilities prior to surgery. Know which facility you'd like your loved one to be discharged to for inpatient rehab.
Consider having an occupational therapist evaluate your home for safety and modifications prior to surgery.
NOTE: You may have heard that your family member cannot be refused therapy if they are making progress. This is referred to as the improvement standard. In 2014, Jimmo v. Sebelius deemed this improvement standard illegal. However, it is a common misconception that maintenance therapy is always covered. This is not entirely true. Yes, skilled therapy is paid for by Medicare if it will maintain someone's status. However, Medicare coverage hinges on the need for SKILLED services. If your loved one just needs to walk every day or complete exercises that can be overseen by a family member or home health aide, it is not considered skilled nursing and will not be covered.
Dr. Claire M. Mulry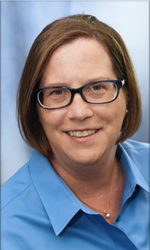 Claire M. Mulry, OTD, OTR, CAPS, is an Assistant Professor in the Department of Occupational Therapy at Kean University and co-founder of Independent Domain, LLC an aging in place consulting company. Dr. Mulry has practiced as an occupational therapist for over 21 years. She has experience in aging in place, adult acute care, acute rehabilitation, sub-acute rehabilitation and geriatric home care. Claire specializes aging in place consulting, community programming, community mobility, adult acquired brain injury, environmental modifications and home care. Dr. Mulry is the creator of the Let's Go Community Mobility program. She received her Certified Aging in Place Specialist (CAPS) certification from the National Association of Home Builders in 2009 and is certified to deliver the evidence-based Skills2Care™ program by Jefferson Elder Care. Claire is a certified CarFit technician and event coordinator by the American Association of Retired Persons, the Automobile Association of America, and the American Occupational Therapy Association. She has presented internationally, nationally and locally. Her peer reviewed articles have been published in the American Journal of Occupational Therapy, Topics in Stroke Rehab, Occupational Therapy in Mental Health, Physical and Occupational Therapy for Geriatrics and OT Practice magazine and Special Interest Section Newsletters.
Note: Medicare rules are complex and can change. Be sure to research your particular need and discuss your situation with your doctor and Medicare.
Disclaimer: The material in this blog is for educational purposes only. It is not intended to replace, nor does it replace, consulting with a physician, lawyer, accountant, financial planner or other qualified professional.