With Pria by BLACK+DECKER
When it comes to caring for a loved one, medication management is a crucial part of that day-to-day responsibility. Taking medication as prescribed is important for everything from controlling chronic conditions and treating temporary conditions, to promoting overall long-term health and well-being. But it can be incredibly difficult to manage – especially from afar. A point that is particularly pertinent given the current climate. The coronavirus pandemic has put our aging population at greatest risk, so in many cases caregivers are unable to care for their loved ones in person.
But you're not alone – Pria™ by BLACK + DECKER is here to help keep you and your loved ones on track. Pria is a medication management device and home healthcare assistant designed to empower seniors to maintain their independence at home while relieving the stress of those who care for them. This voice-enabled tabletop automatic pill dispenser utilizes a HIPAA-compliant platform to provide caregivers day-to-day insight into their loved one's adherence to both prescribed and over-the-counter medication therapy and wellbeing.
Loved ones simply add their medication schedule into Pria's companion app and load their pills using the helpful assisted fill feature. When it's time to take a given medication, after entering a pin code or utilizing the facial recognition feature, Pria will dispense the appropriate dose – and only when the pill cup has been picked up and put back in place is the medication marked as taken. What's even more assuring is that dose history is tracked within the app, and designated caregivers will receive an app notification should a dose go untaken.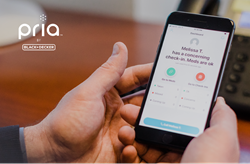 But Pria is much more than just an automatic pill dispenser. It offers a variety of additional features that allow loved ones to stay connected from anywhere, at any time. Caregivers can conduct both drop-in calls and two-way video calls, and even ask check in questions like, "have you had any water today?," or "did you eat something with your morning medications?" Additionally, Pria can set reminders and answer questions about the weather, nutritional information and more. She even likes to tell jokes!
What really sets Pria apart, however, is its proven ability to increase adherence. When using Pria for more than 90 days, users' average adherence rate was 82% – up from 39% when used for less than 45 days. Caregiver presence also positively influences medication adherence when using Pria. Users with one caregiver had an average adherence rate of 79.4%, users with two caregivers were at 80.9% and users with three caregivers were up to 88.2%.
This statistic should come as no surprise especially as we are in a pandemic that has put our aging population at greater risk and limits caregivers' ability to visit their loved ones in person.
In addition to getting notified if their loved ones miss a dose, caregivers also have the ability to set reminders for things like drinking water or exercising, schedule check-ins to ask if their loved ones have completed tasks such as calling their doctor or spending time outside, and even two-way video call to safely speak to their loved one face-to-face – the use of which has spiked since the onset of the pandemic. Each of these features helps to ensure a clear, safe line of communication between loved one and caregiver – from anywhere, at any time – which is especially important now, more than ever.
"Medication compliance is one of the most frequent reasons for decompensation with chronic medical illnesses," said Mitchell Hyatt McClure, M.D., Chief, Hospital Medicine at Hartford Hospital. "A tool like Pria can be invaluable for patients in promoting better health by improving medication compliance and reinforcing good health habits. The ability to additionally use Pria as a tool to communicate is an added benefit to combat social isolation; a problem that already existed in our elderly patients but has been made increasingly worse by the COVID-19 pandemic."
With an increase in adults who wish to age at home, Pria helps them maintain their independence while giving their caregivers peace of mind.
To learn more about Pria, visit okpria.com or check it out on Amazon!
Disclaimer: The material in this blog is for educational purposes only. It is not intended to replace, nor does it replace, consulting with a physician, lawyer, accountant, financial planner or other qualified professional.
Deb is available as a caregiver consultant. She will answer the question: "Where do I start?" and find the resources to alleviate your stress. If you would like to invest a half hour to learn how she can help you, please contact her at: Free 30 minute consulting call