"It is usually the little things that end up being the reason someone cannot live independently. Being able to shower, navigate steps and use kitchen utensils like a can opener"
If you are headed home for the holidays, it is the perfect time to observe, assess, and ask your parents what it is they believe they will need to stay in their home. Often small, low tech gadgets and devices can make all the difference.
Here are some interesting, potentially helpful tools that will help your parents live independently and safely. Except where noted, I have not used these devices, and am not being compensated by the manufacturers. I am simply fascinated by low-tech problem-solving devices. It comes from my dad whom was always inventing simple solutions to every day frustrations.
When picking devices make sure it solves a problem like the inability to open a door or can. Keep it simple. If you're not sure about the device, ask a rehab specialist about its suitability. And ask your loved one what they think about the equipment in regards to comfort, look and ease of use.
Great Grips: Doorknob gripper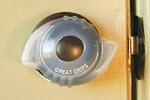 The lever-shape design allows you to open a door using your fingertip and allows for a better grasp when turning the door knob. It glows in the dark and is anti-bacterial. To install, wet Great Grips with warm water and slide it over the door knob.
Hamilton Beach Open Ease Automatic Jar Opener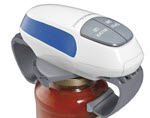 This electric jar opener takes the lid off and reseals it. It says it opens child-proof pill bottles as well. I'm not sure it opens plastic jars like mayonnaise. If that is needed, there is a more expensive opener, the Black & Decker Lids Off Jar Opener. But the Black & Decker is one to ask your parents about because it sit's on the counter.
Stander EZ Stand-N-Go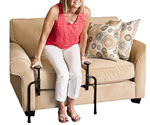 This assist bar is designed to help you stand easily from most couches, chairs or recliners. The frame goes on top of fixed or stitched cushions or goes underneath removable cushions. The weight capacity is 300lbs and the height and width are adjustable.
32-inch-Long Grabber Reacher – this was dad's favorite!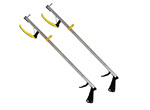 Light weight with a magnetic tip that helps pick up small objects. It even has an ergonomic handle trigger. The yellow clip fastens reacher to canes, walkers and wheelchairs.
Pilot Step Up Cane

The Pilot Step-Up Cane is a height-adjustable quad cane that features a flip-up platform which cuts a step in-half making it easier to step up curbs, stairs and into vehicles. The platform can be used by individuals weighing up to 250lbs. The height adjusts from 28.4 to 37.4 inches. A second handle positioned lower on the cane assists the user in rising from seats and toilets using less arm strength.
Helping Handles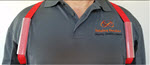 Winner of Caregiver.com's "CareGiver Friendly Award", Helping Handles is the only assisting device ever invented for the caregiver to wear while assisting someone. It provides a more ergonomic lifting posture preventing back injuries, as well as creating more stability and confidence to the person being assisted.
Carousel Sliding Transfer for the Shower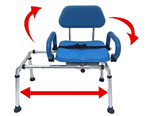 The Hi-View Blue contrast color makes the key parts of the chair easier to see because it does not blend into the background of a white shower. It slides and pivots for safe and easy transfers in and out of the tub. And has a padded seat, back and armrests. The armrests can be raised, lowered and locked into place.
Zack Rack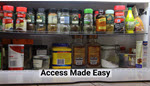 The Zack Rack are carefully crafted handicap accessible storage units. Reaching top or bottom shelves is as easy as pushing a button. Once activated the Zack Rack automated system brings any of ten rotating shelves to your ideal reach height. You can customize by selecting one of five height options for the access door.
And not low tech, but a REALLY cool design!
Flex Step – An adaptable, space saving stairlift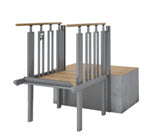 FlexStep is a clever 2-in-1 stairlift and steps solution. It gives you both stairs and a stairlift even in the tightest places. FlexStep can be configured as a flight of stairs and at the touch of a button transformed into a platform for a wheelchair or person with impaired walking needs. Created by a European company, there are distributors in the US. See the website for details.
Please leave a comment if you have any low tech devices that help you stay in your home.
Disclaimer: The material in this blog is for educational purposes only. It is not intended to replace, nor does it replace, consulting with a physician, lawyer, accountant, financial planner or other qualified professional.