Look for a Memory Cafe like Friends Circle.
"You are my sunshine, my only sunshine." One soft voice coming out of the corner of the room turned into an impromptu chorus of more than 30 people singing along. Anna (name changed), a regular at Friends Circle, loves music. Seated in her chair, she claps and sings along with the musical entertainment every time we gather. On days like today when the gathering is focused on something other than music she still sings.
"The highlight to me was Anna starting the event off with an impromptu and very quiet 'You are my Sunshine'. Surprisingly, the entire room followed her lead and joined in. Acceptance, inclusion and sharing joy. That's what a memory café is all about!!! Anna brought out the best in us all." Donna Sobel, Greenwood House Director of Business Development and Friends Circle Project Director.
The Friends Circle is a social gathering for those living with memory concerns and their care partner – whether it be a friend, spouse, relative, or personal caregiver. Guests gather from 1:00 – 3:00 the second Tuesday of each month at Adath Israel Congregation in Lawrenceville, N.J. This memory cafe was created to reach out to the needs of the surrounding community in a way that would have a positive impact. Greenwood House, a non-profit organization, felt that a memory café serving the people of Mercer County would embody their mission to help those who are underserved.
If you have never heard of a Memory Cafe, this description from the Memory Café Directory website will help:
"Memory Cafés are safe and comfortable spaces where caregivers and their loved ones can socialize, listen to music, play games and enjoy other appropriate activities."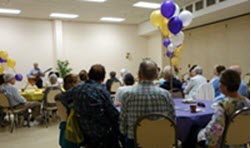 These gatherings are not respite care; you do not "drop off" your loved one. Rather, the caregiver and their caree get the opportunity to enjoy activities together. Each Memory Café determines their own activities, but most tend to focus on music or art. Research has shown that music and art can bring back a connection to the past and the ability to reminisce. Many offer refreshments and a place where resources from local support organizations can help in the caregiving experience. In general, Memory Cafes are hosted or facilitated by professionals who can offer guidance and respond to questions and requests for resources.
Roots of the Memory Café are found in the Netherlands where Dr. Bere Miesen, a Dutch psychiatrist, introduced the concept in 1997. He wanted to break the stigma associated with various forms of dementia. Twenty some years later, Memory Cafes can be found throughout Europe, Australia and across the United States. New Jersey alone has sixteen. To see if there is one near you go to: state directories.
The need for these social gatherings can be seen in the attendance at the Friends Circle Memory Café. The first gathering had 40 guests and meeting size has fluctuated between 35 and 50 guests plus volunteers.
The Friends Circle Memory Café mission is simple:
To maintain a sense of 'normalcy' in the lives of both the care partner and caree.
"Friends Circle was founded on the belief that people living with dementia or other forms of memory challenges should be accorded the benefits of well-being and quality of life that others enjoy. Social isolation and a sense of emptiness are common amongst those living with dementia, compounded by the stigma that makes people feel unwelcome or embarrassed. This leads to isolation – a major cause of increased health risks, rapid progression of dementia, depression and avoidance of medical care. Care partners are also at high risk of isolation, anxiety, stress and their own set of medical and coping issues. Unfortunately, due to the above reasons, there are very few social outlets available that address these needs. By introducing Friends Circle to Mercer County, we recognize people living with dementia as valued members of our broader community, increase community awareness and contribute to creating dementia-friendly, stigma-free communities." Donna.
Aimed to stimulate shared connection and joy, guests enjoy refreshments, socialization, engaging activities, and educational opportunities in a relaxed, supportive and stigma-free atmosphere. Guests are requested to bring their care partner, whether it is a friend, spouse, other relative or caregiver. A diagnosis is not required. Medical concerns or memory-related topics are not part of the program. Community resource information is available.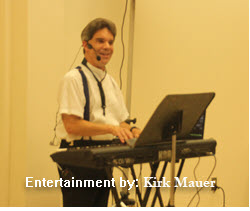 Each month, a creative artist facilitates an engaging activity – something in which all can participate no matter their cognitive abilities. Courtney Colletti facilitated a wonderful & interactive musical program that celebrated life through the shared joy of singing. Kirk Mauer facilitated a lively & interactive musical program that had everyone tapping their toes to old standards and beloved culturally rich songs.



ARTZ Philadelphia facilitated a fun-filled group project. They offered guidance on creating collaborative abstracts on eight-foot-long canvas banners, bringing all the supplies and equipment to us. The best part? No artistic skill or talent was required and the artists in the group were ready with smocks and bibs. Pictures of these beautiful masterpieces can be seen here.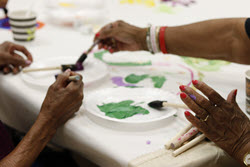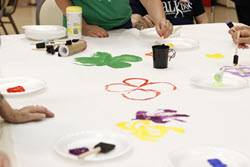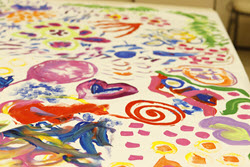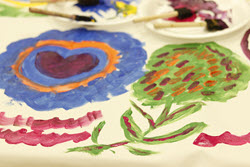 The joy these gatherings bring can be seen through the feedback received after each event.
"Hi, Donna, thanks so much for yesterday! Courtney Colletti was great! Mom said "it was so entertaining!" AND tried to share her experience with my husband. Not only was the music great, but Courtney added interesting history about the songs and artists, which made it all the more entertaining. I gave mom 2 cookies, and she was able to eat them, no problem. This was an especial thrill for her. Thanks again for a lovely day!"
"Hi Donna: It was great! I am glad that she was able to come. We all had an awesome time!"
"Donna! I heard this was a great event! My mother's "other" caregiver was there with another patient she takes care of. I will get Mom signed up for August!"
If you are interested in starting a Memory Café, the Memory Café Directory website has guidance for you, including a video in Spanish.
Disclaimer: The material in this blog is for educational purposes only. It is not intended to replace, nor does it replace, consulting with a physician, lawyer, accountant, financial planner or other qualified professional.