"You are not burying me with a $5,000 crown in my mouth."
Have you heard this statement from an aging loved one? I have. Dental health is so important to physical health and nutrition, why is it neglected by so many of our elders? (Jump to Lessons Learned)

Dr. John Raziano of John F. Raziano DMD PA, a family and cosmetically oriented dental practice, outlined the three big issues that contribute to poor dental health in our elderly and why they resist going to the dentist.
Medical:
In our aging population, the number one impact on dental health is the effects of medicine. Medications that deplete salivary flow result in dry mouth leaving plaque in the mouth longer. Plaque results in a spike in bacteria. Bacteria travels through the bloodstream looking for areas of low blood flow, so it is a real medical risk for people who had a joint replaced or have an artificial heart valve.
As we age, dexterity and mobility hinder good dental hygiene. A stroke patient may not have the dexterity to brush and floss their own teeth. Someone with a chronic illness may not have the energy to brush and floss as often as necessary. If you cannot stand for any period, you need to find a new way of handling these tasks, like sitting down.
In addition, decades of large fillings contribute to fractures over time and teeth breaking which results in the need for a crown, bridge, dentures or the decision to lose a tooth. Once the first tooth is lost, decline in the structure of the mouth begins. Most people play the math game and say take the tooth out, but in the end tooth loss contributes to more plaque and gum disease.
Social:
The non-medical issues that impact dental health include:
Is the patient living on a fixed income and faced with multiple doctor visits?
Can the patient still drive to get to the office?
Is the patient dependent on another person driving them, and do dental appointment options fit into their schedule?
Have they moved to a different community and need to find a new dentist?
Insurance:
Dental insurance seems to be most cost effective when handled in large groups. Once you are out of the work force and not in a group dental plan, visiting the dentist often takes second place since older patients are working with a smaller budget and conflicting priorities. Not having dental insurance becomes an issue when a non-life threatening problem arises, like a tooth ache left untreated. In one to two months, the deterioration is so much larger, that the repair work required is more comprehensive and costlier.
The reality is that people weigh the pros and cons of dental work based on three questions:
Do I need it?
Will I outlive my teeth?
Am I having trouble eating what I want and smiling?
If the answer to all three is yes, they will have the procedure. Otherwise the answer is typically no.
Impact on Nutrition:
Because medications lead to dry mouth, our seniors tend to drink a lot of acidic juices. The problem with high acidic foods is they drop the PH in the mouth. This allows for plaque development which leads to an increase in dental decay. Dental decay leads to a compromised dental structure. Once dental structure is compromised, you start down the path of extracting teeth or dentures. Now seniors can no longer eat crunchy food and they start eating more carbs and soft foods (e.g sticky foods). If your senior is not flossing (brushing does not get rid of all the sticky food), it leads to more plaque and gum disease.
What can you do?
There are all types of nutritious boosters that don't stick around on the teeth. Yogurt and Boost are two examples of food to eat instead of bread and pasta.
For seniors with age related diseases (Stroke or Congestive Heart Failure (CHF), and unable to brush and floss after each meal, there are home care devices and aids that your dentist can identify.
There are adult rinses and fluoride treatments that aggressively attack plaque. These are helpful when a patient is on a medication that results in dry mouth.
In all cases, the dentist should look at your parent's age, their overall health, the health of their gums and teeth and determine what the minimum work needed is to help them maintain health and the ability to eat nutritional foods.
When looking at Elder Care communities do they have a dentist that visits and can work onsite? This eliminates the traveling difficulties. Also, check to see if the facility has a podiatrist, audiologist and optometrist that visits as well.
After a health event like a heart attack, Dr. Raziano sees a decline in dental health within five years. It's important to find ways to help our aging loved ones to continue to brush and floss regularly.
Dr. Raziano believes the decision to have a dental procedure done often gets down to stress and how much discomfort or pain an individual is willing endure. I have seen this with my mother who resisted a crown until the pain was so bad, she had it done as an emergency procedure.
Check out dental coverage through AARP. This coverage appears to function as a traditional employer which increases the dental insurance pool and helps reduce premiums.
Before leaving the workforce and losing dental coverage, work with your dentist to understand what is going on in your mouth. Start to prioritize work that the dentist foresees as potential problems. Then do one to two things each year for your dental health.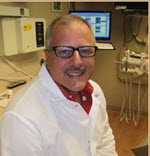 Note: I want to say thank you to Dr. John Raziano of John F. Raziano DMD PA for his collaboration on this article. Dr. Raziano graduated Temple University in 1984 with a BS in Biology. He received his DMD from the University of Pennsylvania School of Dental Medicine in 1989. He is well versed in all areas of restorative dentistry, including crowns, bridges, implants, cosmetics and comprehensive treatment plans involving specialists. In his free time, Dr. Raziano loves to read history and follow the Mets and Giants. John F. Raziano DMD PA/
Disclaimer: The material in this blog is for educational purposes only. It is not intended to replace, nor does it replace, consulting with a physician, lawyer, accountant, financial planner or other qualified professional.