As we age our hopes and dreams do not fade away.
How cool is it to have the job title "Dream Maker"?
This is the hat Amy Safran of Second Wind Dreams® wears. Hearing Amy talk about the Dreams program is to be swept along in her joy and enthusiasm for the work of this organization.
Amy, P.K. Beville (founder), and the rest of the Second Wind Dreams® staff are on a mission to change the perception of aging, and they are doing it one dream at a time. With the help of caregivers and communities, the dreams program changes the experience of aging by empowering elders to age with dignity, hope and joy.
Dreams of our elders can be big or small, typically cost very little money and fall into one of four categories:
Heart & Soul: These dreams may seem small to us but are in fact some of the most powerful because it takes so little to make them come true.
Family & Love: This dream reunites dreamers with long-lost loved ones.
Reliving Past Experiences: After many years of being away from something near and dear to an elder, many just want to experience it one more time. This category is most common for our sleeping dreamers, those living with Dementia.
Adventure: The largest of all the dreams categories, elders just want to have fun!
What Second Wind Dreams knows through their work, is what society has forgotten, that as we age our hopes and dreams do not fade away. A dream can define who you are, and it can help others to understand who you are as well.
 Reliving Past Experiences Dream: A Round to Remember
When Warren of Azura Memory Care, WI was asked what his best day would be, he replied, "to win the Masters… hit a hole-in-one…. Just go golfing again." Plans immediately began to make Warren's dream come true. A date was chosen in June and a putter brought in so he could work on his short game. As word spread, a local golf club maker donated a set of personalized clubs and the use of his coaching skills. Local media got involved and came to capture every hit, while the Azura Team worked together to find Warren his own green jacket and trophy. In January, when Warren first spoke of his dream, he was using a wheelchair. But when he walked unassisted to his first of nine holes, it was evident this dream captured more than just a memory, it captured a drive to remember to live again. Warren didn't get to meet Arnold Palmer – but getting a letter from him was pretty awesome too!
An international non-profit, Second Wind Dreams® was founded in 1997, growing out of the work of geriatric specialist P.K. Beville, M.S. You may know Ms. Beville as the co-author of Second Wind, a novel about people living in a nursing home. Or, you may know her as the founder of the Virtual Dementia Tour. What I know, is that her passion for educating people on Dementia and for helping to fulfill senior dreams has not diminished in the 19 years she has been doing this work.
Ms. Beville and the staff of the Second Wind Dreams believe that dreams are what make us whole and human. They believe having dreams can satisfy the most basic and pure part of us. And they know that sometimes, it is the simple dream that makes us whole again. Take the dream of Violet, Second Wind Dreams, GA.
Family & Love Dream: Family Reunion
Violet had a dream for a family reunion and to see her grandchildren all together. Plans were made for a surprise family reunion at Violet's favorite restaurant, Patti's 1880. All of the family arrived early and Violet's daughter, Linda picked up Violet to take her to lunch. She thought it was only the two of them. Boy, was she surprised to find the WHOLE family there! Altogether, there were 22 guests for her special day.
How do dreams become reality?
Second Wind Dreams (SWD) partners with over 1,000 Eldercare communities to fulfill thousands of dreams annually. Assisted Living, Home Health Agency, Hospice, Long Term care, Luxury Independent Living and Skilled Care eldercare communities are all eligible to join their Elder Care Community (ECC) Network. Once an organization has joined, they can post residents' dreams on the website for funding, connect to local volunteers who help fulfill the dream, work with SWD staff and resources for dream development and fulfillment, and access the non-profit ID number for tax-deductible donations. To learn more about the benefits and how to become a dreams member, please visit: Become a Member of Second Wind Dreams.
Adventure Dream: Hot Air Balloon ride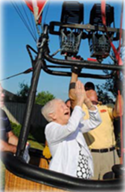 Jean from Ashwood Place, KY, is very active at 92 years old. So it was no surprise to find out she wanted to fly away in a hot air balloon. Riding in a hot air balloon had always been a dream of Jean's. Her fascination began with "Around the World in Eighty Days". On June 20th, Ashwood Place and Farmers Bank made Jeans dream come true. Jean was surrounded by her family, friends and neighbors as she lifted off. Her trip lasted about an hour and ended with a toast. Her story was covered by WKYT, The State Journal and Capital Living Magazine.
The Second Wind Dreams program has made over 10,000 dreams come true since the organizations inception in 1997. But does fulfilling a dream really have an impact, beyond a feel good moment? Yes, it does. There is a ripple effect as the impact of the dream spreads from the elder to everyone who helped make it a reality.
Dream Impact Study Results
Through the years, the Second Wind Dreams staff receive letters and calls about how the program changed their lives. Six years into the program, P.K. Beville conducted a study using staff and volunteers to determine whether or not making dreams come true has any impact on an Elder Care Community.
The study demonstrated a decrease in depression in those living in elder care communities. Decreased depression results in a host of positive results from a reduction in anti-depressants and medical costs to increased physical functioning and activity participation. In addition, when the Dreams Program is embraced by the entire elder care community, staff members see an increase in positive attitudes, resident attachment and a reduction in turnover.
Second Wind Dreams has been at the forefront of the "person-centered care" philosophy now being adopted by so many elder care communities. By design, the program shifts thinking to how we can better care for our elders as the "whole person". Second Wind Dreams lives their mission statement with work that puts elders first, honors their lives and enhances their quality of life.
To read more about fulfilled dreams visit: Second Wind Dreams
Disclaimer: The material in this blog is for educational purposes only. It is not intended to replace, nor does it replace, consulting with a physician, lawyer, accountant, financial planner or other qualified professional.