There is no right or wrong way to grieve.
Update note:
Grief is a topic I have written about before and this post is from the 2nd anniversary of dad's death. But this week we lost one of my father's siblings and it was like losing him all over again. One more tie to the person I loved is gone and I'm grieving the loss of our beloved family member, that tie to dad and of course my father.
I know how hard this is on the immediate family. I know they feel privileged to have been there with him as he died and grateful for the relationship they had with him. I know that doesn't make this any easier. Nor does it prepare them for the emotional and physical support their mother will need.
What I do believe is that everyone grieves differently, that you can't put a timetable to it. And that like me, with the help of family and friends, they will come out the other side stronger as a family.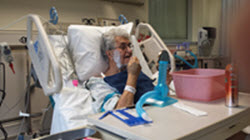 I was so happy when I took this picture and shared it with family and friends. Dad had come through a frightening stay in the ICU and was feeling better than he had in months. Yet underlying that joy, there was a feeling of dread. We had dodged this bullet but another one was coming. We just didn't know when.

It is two years this week that my father died. Some days it feels like yesterday and some days it feels like a thousand since that awful time. I still miss him and always will. (Jump to What I know now)
Since dad's death I am even more grateful that we had a terrific relationship. Losing him would have been such a different experience and grief would be colored differently if our relationship had been complicated. It was a privilege to see him through his illness and I treasure the fact that he thanked me for being with him. I have no regrets on how the family saw him through his death, respecting his wishes and being with him at the end. We had the time to say "I love you" and resolve any conflicts. The loss was no easier, but there is great comfort in the closure we had with him.
And yet, knowing dad was dying and preparing myself for that eventuality didn't lessen my disbelief that he was gone. I had experienced death through the loss of grandparents, aunts and uncles. But losing a parent, at least for me, was different. Your sense of place in the world shifts and the way it influences you going forward is different. Now I make the time to be with people that are important to me, tell them how grateful I am to have them in my life and that I love them.
Everyone grieves differently and on a different time frame. For me, the first months after he died, life was chaotic and there was no time to let go and feel the denial, anger, and depression stages of grief. It was a good six months after his death before I was finally able to breathe and begin that process. Don't get me wrong, I had been grieving for a full year before dad died. But there is a difference in grieving for the changes you see in a loved one as they lose their ability to do the things they love, to fulfill the role in the family that defined them. The grief that comes with the knowledge you won't see them, talk to them, kiss them again is what I am still feeling and coming to terms with as my new "normal".
Grief comes and goes at the craziest of times. For me, the first time I walked into a card store after dad died, a wave of grief came over me that was so strong I had to walk out. The realization that I would never again buy him a card was like a tidal wave and I had to go with the undertow.
Grief is different for everyone. It depends on your personality, the relationship you had with the person.
You can't judge how a person grieves, or how long it takes them to grieve. Be generous allowing people to grieve in their own way. Be patient with people that go through a long process. Temper your expectation about the other ways people grieve, how long they grieve, what they grieve.
Inappropriate comments about your loss or grief that other people make are really about their own stuff. Just let it go.
I take great comfort in having some of his things around me and I wear some of his favorite Giant sweatshirts. For others in our family, he is always in their thoughts and it is painful to see physical reminders of his life.
I take great comfort in visiting him which is something I did not expect. I share what is on my mind, ask for his guidance, complain about life and in general lean on him like I always did. And when I am really bothered and unable to sleep, I talk to dad and ask for his help. Is the problem resolved when I wake up? No, but I sleep better and often have a new perspective in the morning.
Elizabeth Kubler Ross's work "On Death and Dying" is an excellent resource as you navigate grief. In it, she defines five stages: denial, anger, bargaining, depression and acceptance that are a part of the framework which help to learn to live with our loss.
Disclaimer: The material in this blog is for educational purposes only. It is not intended to replace, nor does it replace, consulting with a physician, lawyer, accountant, financial planner or other qualified professional.