The book Music, Memory, and Meaning by co-authors Meredith Hamons, Tara Jenkins and Cathy Befi-Hensel is my new obsession. Just an FYI, this article will be published in two parts. There was so much great information, I didn't want to overwhelm you.
Music, Memory, and Meaning is designed for everyday people to incorporate music into their caregiving day. It is written for caregivers of people living with a memory impairment, but anyone can benefit from it. In fact, I wish I'd known about it when mom was alive. She loved to listen to music on Alexa but was often frustrated by how a request for Nat King Cole would would change to Nat King Cole-like artists which she did not enjoy. It never occurred to me that I could curate playlists for her on a music app she could use with Alexa.
In Music, Memory, and Meaning, the co-authors clearly explain in layman's terms, the neurological reasons why music is so important. The power of music is that it "alters brain chemistry, can affect heart rate, breath rate and blood pressure in addition to changing both brain structure and the way neurons fire." Music has superpowers and if you need to see it in action, watch this short video of Henry from Alive Inside: A Story of Music & Memory.
They then go on to suggest how you can select music that will appeal to your caree and it starts by knowing something about their early life. The book is clear that what works one day may not work the next and that is OK. It is not that you are doing things incorrectly, it just means at this moment, it is not going to engage the person with cognitive brain disease. The key is focusing on body language and other nonverbal cues, like walking away. But more about that in the next installment of this article.
Co-author Tara Jenkins and I spoke at length about her work as a music therapist and about this book. I learned it is a great jumping off point on how to use music to connect with someone living with a progressive brain disease. What really blew me away was this practical tip: music can help you with Activities of Daily Living (ADLs).
ADLs like bathing or medications can be a challenge for someone with a progressive brain disease. You don't want the tough stuff to cause a rift in the relationship and this is where music can help. Research tells us that interacting with music before and during ADLs can work. Both are appropriate. It comes down to personal preferences and, of course, what is happening in the moment.
In our conversation, Tara had great insights to share. "If you want someone to brush their teeth or are cueing them to eat, use instrumental music so they are less likely to sing along with words and can focus on the ADL. Preferred music can be a motivator on the way to brushing their teeth or sitting down to eat."
Preferred music can also be used as a distraction before and during bath or shower care, especially if someone has been resistant to these ADLs in the past. Tara recommends having everything set up ahead of time in the bathroom (towels, temp in bathroom and of the water and toiletries and robe set out.) Once you are ready, you could start playing the preferred music and have them dance/sing/clap along while walking to the bathroom. Be sure to have the music on something portable so you can bring it with you.
Because music is a great way to connect positively, it can help the person you are caring for not associate the ADL with something negative. Music, it has superpowers!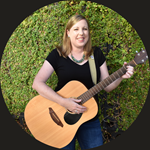 Tara Jenkins, MT-BC, CDP, CMDPC is a board-certified music therapist, certified dementia practitioner, and the founder of Harmony in Dementia. She has been working in the eldercare field for the last 16 years, and she specializes in providing music wellness workshops, music consultation, and music therapy services for older adults, care partners, and eldercare professionals. Tara has extensive training and knowledge on caring for those living with dementia and/or cognitive decline, works closely with care partners on how to share music and create meaningful experiences with their loved ones, and frequently presents on the topic of music therapy and older adults. She is also the co-author of "Music, Memory, and Meaning: How to Effectively Use Music to Connect with Aging Loved Ones."
Contact Information:
@HarmonyInDementia (Instagram, FaceBook, YouTube, and Linked In)
Email: contact@harmonyindementia.com
Website: www.harmonyindementia.com
Disclaimer: The material in this blog is for educational purposes only. It is not intended to replace, nor does it replace, consulting with a physician, lawyer, accountant, financial planner or other qualified professional.
Deb is the author of "Your Caregiver Relationship Contract and "A Relationship Contract for Dementia Caregivers." Your Caregiver Relationship Contract is available in both English and Spanish. It explains how to have an intentional conversation and the how unspoken expectations can cause problems during caregiving. A Relationship Contract for Dementia Caregivers explains how important it is to learn how your person wants to live their live out and how you, the caregiver is the most important person in this relationship, giving you tips and tricks for this journey.
Click here to learn more about Your Caregiver Relationship Contract or here for the Spanish version: Su Contrato de relación como cuidador de un ser querido. If you are a dementia caregiver, click here to learn more about A Relationship Contract for Dementia Caregivers.
Deb is available as a caregiver consultant. She will answer the question: "Where do I start?" and find the resources to alleviate your stress. If you would like to invest a half hour to learn how she can help you, please contact her at: Free 30 minute consulting call