Three caregiver tips and tricks.
#AD This is sponsored content written by me in partnership with Depend® brand. All thoughts and opinions are my own. Lookout for the special offer from Depend brand at the end of this post.
Caregiving for a spouse or aging parent is a journey of love. Nothing prepares us for its challenges or the level of intimacy it can require, like bringing up the subject of incontinence.
Too often a senior will self-isolate because of bladder leakage. Studies show that isolation increases the risk of mortality, negatively affects both physical and mental health and contributes to cognitive decline and risk of dementia.
Be Proactive
Nearly 65 million Americans experience bladder leakage in one form or another, but bladder leakage doesn't have to get in the way of living a confident, uninterrupted life. You know your loved one. If they have become reluctant to visit places they used to enjoy, it may be the fear of bladder leakage.
Ask them:
"Do you worry about finding a bathroom while you're out?"
"Would wearing Depend® Underwear give you the confidence to go to church, to visit friends more often?"
I'll be honest, Mom surprised me when she answered these questions with, "Yes, I would wear Depend Underwear." What convinced her was the fact that Depend® FIT-FLEX® Underwear is designed to fit and feel like underwear for all body shapes. It comes in sizes small, medium, large and extra-large for women. It also come in sizes small/medium, large and extra-large for men.
Language matters
Whether you bring up the subject of incontinence to be proactive as I did, or your senior is experiencing problems, a conversation on incontinence requires that you allow your loved one to keep their dignity.
"When my wife began to have night-time accidents, they were infrequent at first–about once a week. But Parkinson's is progressive, and the frequency began to increase. When I suggested she wear an adult diaper, she resisted. And she was definite. "No" was her blunt response. Well, I couldn't force her, but by now it was happening every night, sometimes twice a night, and I was getting frustrated. I mentioned this to her care aide, who stared at me as if I'd demonstrated my unfitness as a sentient being, and said, "We never call them diapers. Nobody wants to wear a diaper." The lesson for me was that terminology matters." – Jolyon Hallows, caregiver
The beauty of Depend FIT-FLEX Underwear is it looks and fits like what your loved one is used to wearing. The all-around leg elastic gives a smooth, close-to-body fit. This slip-on bladder leakage protection is soft, quiet and breathable for outstanding comfort. Not to mention, it has the fastest absorbing material inside for dry, comfortable protection.
Routines are important
If you are caring for a loved one living with dementia, routine is important. That can include stocking their drawers with Depend FIT-FLEX Underwear, rather than regular cotton underwear. It can include daily and nightly routines that establish restroom times. Contrary to what many people think, drinking water when you have incontinence can help your bladder from feeling irritated.
"My mom had dementia, which was aggravated by a hospital stay for a Urinary Tract Infection (UTI). When she came home from rehab, she was used to wearing Depend Underwear, so I never had to have a conversation with her. During this journey, I still wanted her to do as much as she could. Mom dressed herself with the clothes I laid out, which included Depend Underwear.
It was important for her to stay hydrated. I learned not to use too many words to get her to drink. Simple always worked. "This is water, would you like some?"
The best advice I received was from one of Mom's caregivers. There came a point where we needed to change her Depend Underwear several times a day. Mom dressed in stretchy pants with sneakers, which are heavy. I learned you don't have to remove all the clothing, you can change the protection without taking their pants off. Just pull the pants down to the ankles, take one side off, and pull it out from the bottom of the pants and around the shoe, then do the same with the other side. Reverse the process to put on a fresh pair." – Shelly T. caregiver
Caregiving for an aging loved one is a privilege. It is also fraught with constant decisions, second guessing and, let's face it, frustration. Using Depend FIT-FLEX Underwear as part of the dressing routine will help both you and your loved one by giving them dignity and the confidence.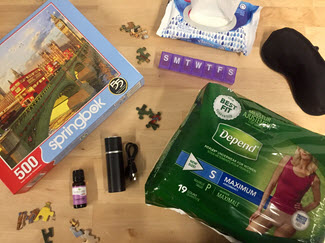 To empower and honor the caregiving community on National Caregivers Day, Depend brand is giving away up to 50 free Depend Caregiver Toolkits, which include a portable phone charger, Lavender essential oil, a sleeping mask and, of course, the chance to try Depend FIT-FLEX Underwear, to name just a few items. To receive the toolkit, please visit: Toolkit


For more information, follow Depend on:
Disclaimer: The material in this blog is for educational purposes only. It is not intended to replace, nor does it replace, consulting with a physician, lawyer, accountant, financial planner or other qualified professional.