"And now it's done."
When my mom's father was in his mid-80's I sat him down with his brother and sisters, fed them lunch and got them to talk about their lives. It was fun learning about their childhood, adulthood, and relatives long gone. And it was an incredible history lesson. Everyone had vivid memories of WWII, the Great Depression and where they were when they heard President Kennedy had been shot. Life got busy but I finally completed the family history for Gramps 90th birthday. When I presented him with the bound copy, I said "I finally got it finished." To which he replied in a soft voice "And now it's done." He died less than 6 months later. (Jump to Lessons Learned)
I still get chills when I think of that conversation but it was not until I read the book "How To Say It to Seniors" by David Solie, M.S., P. A., that I felt like understood it.
In this book, Solie discusses some of the frustrating behaviors of aging loved ones: repeating stories, fretting over unimportant details and abruptly ending conversations when we are trying to resolve issues. He doesn't believe this behavior is just "old age". In the book, Solie explains it by outlining two critical needs of our seniors:
Control – "To maintain control is a primary driver for the elderly, because each day, they feel losses – of strength, health, peers, and authority that are staggering". *
Developmental Work – The developmental work of our elderly is to look "backward, not forward to reflect on what their lives have meant to themselves, their loved ones and the world at large." What Solie calls "legacy work". *
This need for reflection, translates into the need to be "remembered for their time here on earth and cherished by succeeding generations. * And it comes at a time when elders are losing control of so many things in their life – health, mobility, the death of the people that knew them best.
Which brings me back to Gramps. I believe he could let go because this record of his life helped his "legacy work". As Solie says, "Facilitating legacy work requires nothing more than our time, attention and willingness to engage the older person." *
Steve Besserman of AriJoe Productions is a friend of mine. He is an award-winning documentarian whose parents story began during the Holocaust. Their family history, captured in the film "Only A Number", started with a simple exercise to help his mom write better in English. Steve has gone on to document the lives of others, like Bunnie who at 97 didn't think she had a very interesting life. She does.
Watching "Bunnie" after reading "How To Say It to Seniors", gave me an interesting view into how legacy processing works. Asked a question, Bunnie tells a story rather than give an answer filled with facts. You see her stop for a moment before talking about her brother's death. When talking about her first two children, the quiet comment "what if something happened?" and you know the loss of her brother is at play again. She looks off camera when speaking about her husband's cancer diagnosis. And there is such joy when she relives performing "Let Me Entertain You" for other seniors.
This recontextualization as described by Rabbi Zalman Schachter-Shalomi is the "process of remembering long ago events, people, places and relationships and assigning new meaning or importance to these events."
You can help your senior in their legacy work by documenting family history. It is not just a gift to your senior, it's a gift to yourself. Steve tells me that writing his family story helped him to understand his parents, how he was raised and decisions they made. As a teenager, Steve couldn't understand why his parents objected to his attending a concert. It was after working on "Only A Number" that Steve understood it was not the concert itself, it was the train he needed to take. For them, it brought back all the memories of transports from ghetto to ghetto and camp to camp.
Steve and I agree, don't wait or feel like you must hire a professional videographer. Sit down with your senior, tape the conversation or have a notebook at the ready. Give them this gift while they still have the mental and emotional capacity to do it. Our seniors need to tell you their story and there is joy and passion in the process. And don't be surprised by how much this helps you understand who you are, or, how it will bond the family in new ways.
Get your senior settled and relaxed, maybe involved in something they love like knitting
Engage in small talk before asking open ended questions like:

Tell me about growing up
Who was your favorite teacher?
How did you meet your spouse?
Tell me about your hobbies

Don't rush pauses and respect any conversational tangents
Have photographs available to jump start the conversation. Write on the back, the who and where for each photo.
Bunnie is available to view at AriJoe.com
* Taken from "How To Say It to Seniors" by David Solie, M.S., P. A.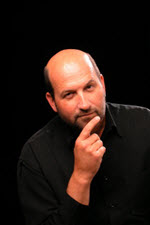 Chief Storyteller, Steve Besserman of AriJoe Productions captures, preserves and shares family histories. Besserman started the documentary production company, AriJoe Productions, in 2010 originally for the sole purpose of creating a personal documentary that recounts his parents' experience in a Nazi concentration camp where they met, fell in love and survived. The documentary has won several best feature documentary awards, has been shown at five film festivals, was broadcast on PBS stations across the country and is now a part of the New Jersey school curriculum. His company has expanded to provide video documentaries for small to mid-size businesses, non-profit organizations and individuals who want to preserve and share their life stories or family history.
Disclaimer: The material in this blog is for educational purposes only. It is not intended to replace, nor does it replace consulting with a physician, lawyer, accountant, financial planner or other qualified professional.