Standing from left: Nadine Clopton, Arnold Kelly, Jo Kelly, Pam Singer (Atrium), John Vidulich, Brett Bailey, Sheelagh Vidulich. Seated from right: Trudy Fricker, Michael Nicolosi, and Louise Nicolosi

Dreamscapes: A Night at the Opera
Loved ones that enter a senior living facility bring with them a lifetime of experiences, rich in memories of people, places and events. As we age, it becomes difficult to get out and create new memories, like attending a play or the opera. But what if the opera could come to you? That is exactly what happened at Atrium Senior Living of Princeton for three residents and their families.
In the last year, Atrium Health and Senior Living instituted a "person-centered care" philosophy. As much as possible, the Life-style lived is to be on the resident's terms, not the communities. Person centered care requires the Atrium staff to work in a new way and to change their pattern of care. Simple things like accommodating a resident that would like to sleep in, or eat later, is a welcome change.
For person centered care to work, Atrium must come to know their residents on a deeper level. Last year, Pam Singer, Activities Coordinator at Atrium Senior Living of Princeton conducted a survey of residents. That survey was the beginning of the "Dreamscapes" program, when it came too light that three residents (Trudy Fricker and Louise and Michael Nicolosi) had a love of music and opera. Giving them an evening of opera with their families became a way to show these residents how much they are valued, respected, and cared for, by staff. It took a team of people from Atrium and Vitas Healthcare to make the evening happen, but it was magical.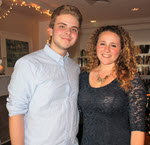 Serendipity lead Pam to opera singer Nadine Clopton and accompanist Brett Bailey. Nadine, a sophomore at Lehigh University, has been singing opera for years. Brett, a sophomore music composition major at West Chester University, has known Nadine since middle school. Both graciously volunteered their time. This talented duo performed two pieces by Mozart, one from Gluck and the show tune, "If I loved You".
Both Trudy and Louise are in Memory Care, so the choice to hold a night of music was significant. Research shows music has the power to engage individuals with dementia. "Music that reaches Alzheimer's and related dementia patients can result in a mood shift, help manage stress-induced agitation, and bring about positive interaction. The connection to music can be so strong, that hearing a tune long after the occurrence, evokes a memory of it. A person's likely response to music is based on prior experience. One melody may sooth one-person, while for another it evokes a sad memory. Choosing music from young adult years – ages 18 to 25 – typically has the strongest response and potential engagement." (Source: Alzheimer's Foundation of America: Music Therapy)
And that is exactly what I saw happen with Trudy when Nadine sang "If I Loved You" written and composed by Rogers and Hammerstein for Carousel. Moments after she started singing, Trudy was sitting up straighter and staring intently at Nadine. If you know Trudy's life history this make perfect sense.
Born in the former European colony of British Guinea, one of six children, there was always music in their home. Trudy has memories of her mother singing show tunes while working around the house, teaching her to sing and playing piano. Trudy met her husband Frederick Fricker, during WWII while he was stationed in British Guinea. After the war the Fricker's settled there with their three daughters, while Freddy worked as an engineer. Widowed early, Trudy traveled all over the world visiting family and friends. The one constant in Trudy's life is her love of music and singing, especially listening to, and singing show tunes.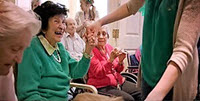 Trudy who sang with the Atrium choir for two years, no longer participates now that she has moved to Memory Care. She does attend the many music programs at Atrium. Her particular favorite is "Generations" an inter-generational Music Together class taught at Atrium, by Music Together Princeton Lab School *. Watching preschoolers and their mom's perform for the residents and dance around the room, immediately engages Trudy and the rest of the audience.
To see the joy a "Generations" class at Atrium brings to the residents, click here:
Music Together at Atrium Senior Living Princeton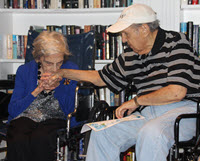 Mike and Louise Nicolosi have been married for 71 years, with a daughter and son. A charmer to this day, Mike was all set to go out on a date with Louise's sister, when Louise came down the stairs to tell him she was not feeling well. His response, "I'm not here to take your sister, I am here to take out you." To hear Mike tell it, "I fell in love with her in that instant and have loved her ever since". World travelers, Mike and Louise have visited Rome, Portugal and even Brazil for Carnival to name just a few places. The Nicolosi's were always passionate about the arts, and spent many hours going to plays and the opera in New York City.
Mike and Louise joined the Atrium family two years ago. Up until then, he was still working in his jewelry business side by side with his wife, Mike setting gemstones and Louise stringing pearls. Mike attends the Music Together classes as well and is a current member of the Glee Club. A proud veteran that landed at D-day, Mike has many stories to tell but he always comes back to his beloved Louise. Today, Louise spends her day in Memory Care, but at night she and Mike still sleep together in their own room.
Our evening finished with a lovely private dinner, giving us a chance to connect with Trudy, Louise, Mike and one another. Thank you Atrium Senior Living of Princeton and Vitas Healthcare, for the joy you gave us that night.
Postscript: The idea of giving our aging loved one's special memories while we can is specially poignant to everyone who attended Atrium's "Night at the Opera". Not long after our evening together, Trudy Fricker passed away. As Trudy's daughter Sheelagh told me, "You have no idea how glad I was that she had enjoyed that beautiful event just two weeks earlier and was happy at that time. Those are the memories I cherish."
Note: Recycle your iPod, give it to a facility loaded with music from a resident's young adult years. Or, donate your iPod to the non-profit Music and Memory. Watch a nursing home patient come alive listening to music. Source: Music and Memory Org: Mission and Values
* Music Together Princeton Lab School is a a licensee of Music Together Worldwide.
Disclaimer: The material in this blog is for educational purposes only. It is not intended to replace, nor does it replace, consulting with a physician, lawyer, accountant, financial planner or other qualified professional.