You can't survive or thrive on this caregiving journey without them.
I agree with Elissia Lewin of Nancy's House, isolation and exhaustion are head on, the two biggest issues for caregivers. If not addressed, disease and depression are often the result. I can't help you with exhaustion, but I can tell you that one antidote to isolation is a caregiver support network. Without it, your physical and mental well-being suffers.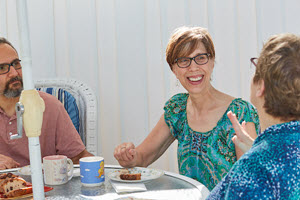 I am very blessed, and I know it. I have friends from childhood through adulthood that are part of my caregiver support network. I call them my caregiver "peeps". Family is included in this friends category. Even if we weren't related, I would choose to have them in my life.
I'm fortunate because my support network has a rich history with my parents and me. They know us, love us, and our shared history allows us to be honest with one another. Don't get me wrong, it takes work to maintain these relationships. The times when I'm overwhelmed or exhausted and don't want to reach out, are the times when I need support the most.

There are times when I feel like all I do is complain to my peeps. Maybe I am, and that's OK. For a little while. But no one, including me, wants to hear about the same problem over and over. I've come to realize the third time I hear MYSELF talking (let's be honest, whining) about the same problem, it's time to say: "Enough, do something about this, change the way you deal with it, or your attitude, and stop complaining about it."
Then there are times when there are just no good solutions, I'm just stuck in the mud. As Denise Brown of Caregiving.com says: "Sometimes you just need a friend to sit in the mud with you, not try to solve it for you. Sometimes just sitting in the mud and hearing someone (like a caregiver support peep) say, 'this is awful' is validating and healing."
The reality is that too many caregivers don't have a support network to call on. Don't give up, there is amazing online support available to you.
Look on Facebook for closed groups. Search by on things like #caregiving #caregivers, or by a disease state like #FTD.
Check out sites like Caregiving.com, Seniorcare.com, TheCaregiverSpace.org, DailyCaring.com
Check out online disease communities like SmartPatients.com or Inspire.com. Look at websites like the Mayo clinic or the Alzheimer's foundation.
Talk to your doctor about local support groups.
If your life seems hopeless, seek professional support. You need to be able to unload, get a second opinion, need to be heard and validated.
Note: Medicare will now pay for counseling with a social worker. It is possible to do the work by phone. Ask your physician for details.
Caregiving is hard. If you're not careful, it can destroy the relationship you have with your caree and other family members. Support from your peeps (live or online) can help you get beyond the overwhelming tasks, the business of caregiving and back to who you are as friend, child, spouse.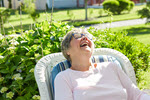 My caregiving support peeps give me respite. When we are together, laughing, catching up on one another's lives, I am Deb again not mom's caregiver. And that is a gift.


Disclaimer: The material in this blog is for educational purposes only. It is not intended to replace, nor does it replace, consulting with a physician, lawyer, accountant, financial planner or other qualified professional.